Dyno Sheets
---
Dyno Data: Tiny Avenger
Modifications:
Booster pump
Crane Ignition Amp
40 lb/hr injectors
Hi flow turbo
Adjustable fuel pressure regulator
K&N air filter
Advance timing 3°
Note: The early exhaust manifold was used in this test.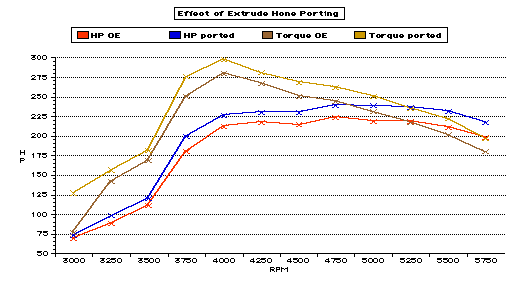 ---
Dyno Data: Jon Welsh
This engine was built by Modern Performance.
Modifications:
Ported
head
intake manifold (upper and lower)
exhaust manifold
throttle body
Big valves MP small roller cam
Superchip - chip
BIG VAF
MP Intercooler
MP 3" exhaust (incl downpipe)
K&N air filter
Stock:
injectors
turbo
ignition
fuel pressure reg
fuel pumps
fan belt pullies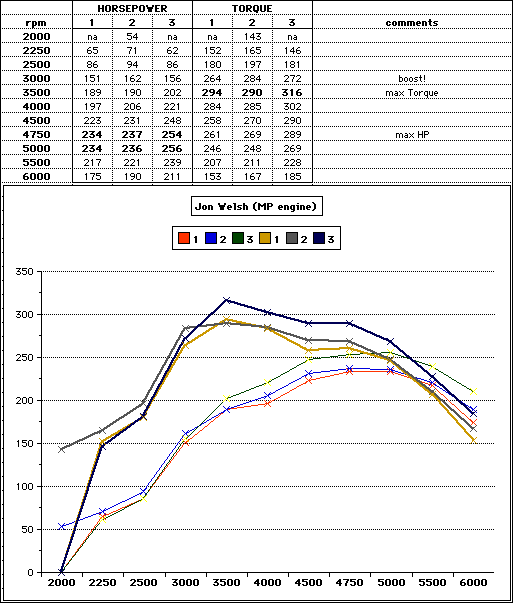 ---
Ken Schultz's dyno tests
These are the dyno results from Ken Schultz's dyno tests on his '86 Mustang SVO. The car was tested at EIP tuning in Westminster, MD near the end of July 1998. Ken's car is a white '86 SVO with the competition prep package.
The engine was fully built up by Nick Mannarino of Modern Performance. You can contact Nick at 732.222.679 or mp23cc@aol.com
Balanced and blueprinted shortblock with TRW pistons and polished stock rods(more on this later).
Big valve head fully ported and polished
Nick's hydraulic roller cam kit.
Ported/Polished intake and exhaust manifolds by Nick.
60 mm throttle body modified to bolt on upper intake.
BIG Spearco front mount intercooler with Bosch blow-off valve.
Nick's Stage 2 turbo. This is a T3/T4 hybrid. Dyno testing was performed using a .63 exhaust housing.
Stock PE computer and vane meter with stock injectors.
Adjustable fuel pressure regulator.
Digital exhaust gas temperature meter used to monitor fuel/air ratios.
Single Fogger NOS setup plumbed into intercooler piping.
190 lph pump in tank and Vortech T-Rex pump on the frame rail.
Adjustable Cam Sprocket (We found 2 degrees advanced gave the broadest and flattest torque curve. Peak power
was not affected all that much by the cam timing.)
Subframe connectors, 8.8 rear, and probably other things I can't think of.
Fuel pressure was about 55 psi at idle peaking to about 85 psi at full boost.
The air cleaner was an open element cone K&N filter on the end of the SVO VAF.
For the street, there is a 3" Esslinger down pipe into a Flowmaster dual
exhaust system. On these dyno runs, it was just an open downpipe.
We used 94 octane unleaded Sunoco mixed with 100 octane Sunoco
unleaded(its available at the pumps around Maryland)
The night after the dyno pulls, the motor put a rod through the side of the block . I guess the stress of 30 some dyno pulls was too much on the stock rods. Ken and I pulled the motor out of the car and found that it was the number 3 rod that had snapped right in the middle. Nick is already working on a new shortblock for the motor using Crower rods, and since the head wasn't damaged when the motor broke, the car should be back up and running in short order.
Here are the sheets, this is only a few of them since I have limited space to work with. Note: The horsepower and torque curves shown on the graphs are the output at the rear wheels.
Note:The handwriting at the bottom of the charts represents the estimated flywheel numbers obtained by adding a 15% drivetrain loss factor.
BestMotor, Best run without the juice.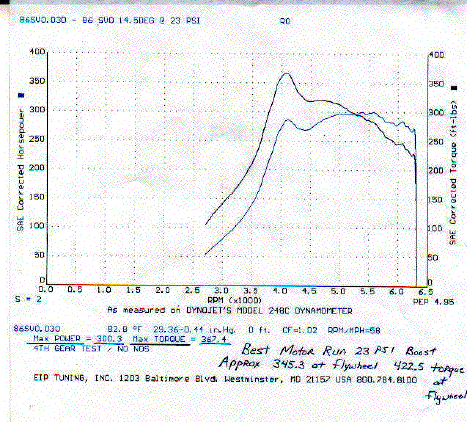 TimingChange, See the difference 1/2 a degree of ignition timing can make.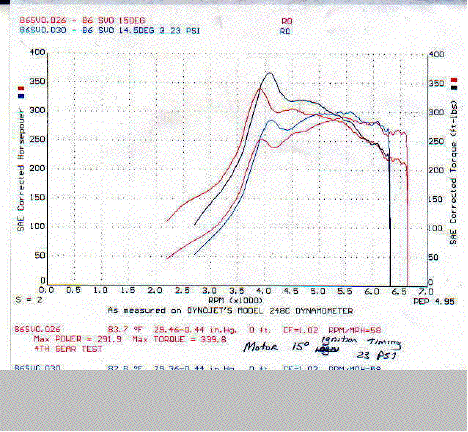 The first and last runs of the day. It's amazing what kind of power gains can be had through proper dyno tuning with no parts changing at all. Both of these runs were at the same boost level with the main differences being fuel pressure, cam timing, and ignition timing.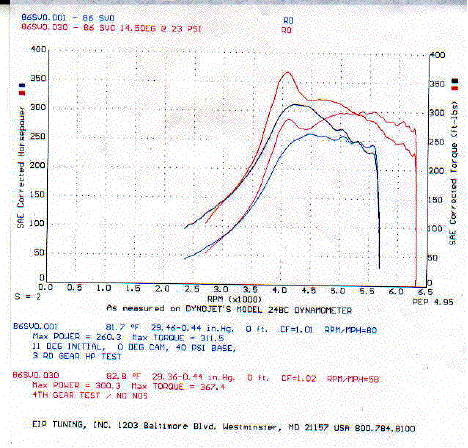 ---
Modern Performance Dyno Shootout: Analysis
Thanks to Nick, Dave Ziminski, and everyone for sharing their data with us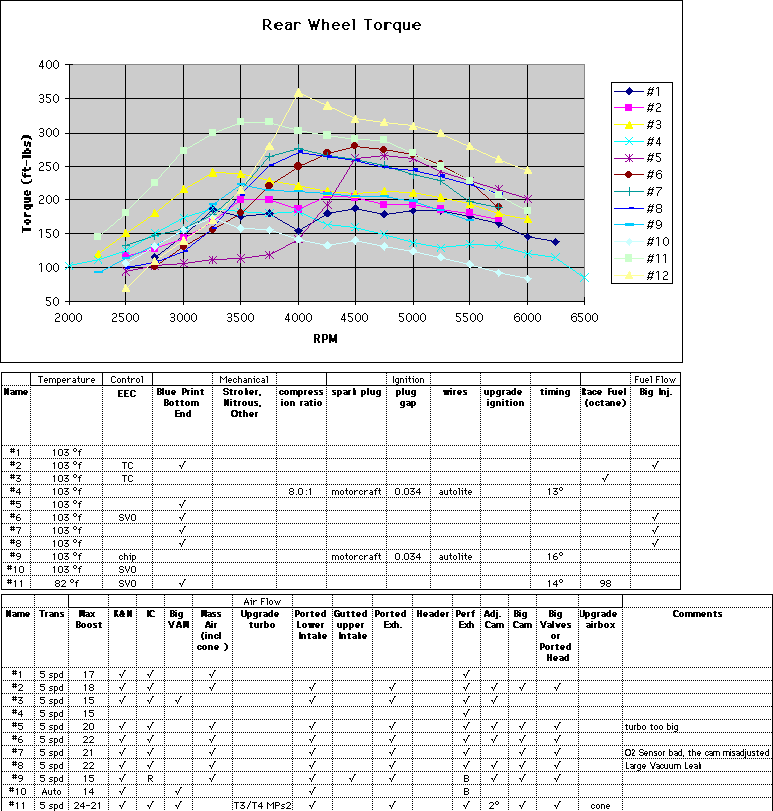 Observations:
1. #4 is stock with upgrade exhaust.
Improved airflow would reduce torque rolloff above 4000
2. #10 is auto with SVO EEC and some airflow upgrades. Stock auto cam has very low airflow, upgrade to XR cam (about $25) or high performance cam to get to #1's torque.
3. #5 has lots of mods but needs some repair toget low (below 4000) torque back. Maybe timing, or mis adjusted mass air.
4. #2 and #1 both make good power. The dip at 4000 may be fixed with more fuel pressure.
5. #7 and #8 both very similar setups and make really good power. They both claim to need a little fixing. This data correlation shows repeatability of torque by similar mods.
6. #3 has pretty minimal mods and makes a really drivable torque curve. This car is the most drivable since the curve starts early and is pretty flat. More airflow would bring the upper RPM torque up really high.
7. The temperature was really hot (103°f) for some tests. This really affects the power made.
---