2.3L Turbo ECA's & Chips
---
Ford ECA's
The different ECA's are calibrated (in software) for diffeent sensors and actuators.
Vehicle
Year
Injector Size
(lbs/hr)
VAM
(cfm)

OE HP
(5 spd)

OE Torque
(5 spd)

T-Bird / Cougar
83.5 - 85
30
280
155
180
T-Bird / Cougar
85 - 86
36
280
155
180
Merkur XR4ti
85 - 89
36
280
170
195
Mustang GT / Capri
84 - 86
30
280
155 ?
180 ?
Mustang SVO
84 - 85.5
30
360
175
210
Mustang SVO
85.5 - 86
36
360
205
248
T- Bird
87 - 88
36
360
190
240
Notes:
XR PF2/3: Whatever the difference these were the stock ECUs we all know and love. DO NOT USE THEM WITH A LARGE VANE METER, pause, HE SAID AGAIN. (They will run LEAN and burn up the pistons and head gasket)
XR PK: Stock auto trans ECU. Nice paper weight.
Both the stock XR ECUs have a pretty relaxed timing curve.
85.5 - 86 SVO: Never ran one myself but they do perform well obviously. A pure perfect plug in for an XR. NO REWIRING NEEDED. Lower rev limit, stock as XR than the chip if that matters.
Aftermarket Chips
The aftermarket chips are also calibrated for differect sensors an actuators, although since the chips are basically software they can be designed to use diffrent sensors and actuators than the ECA that they are plugged into. (You can plug a chip into any XR box or any SVO box. The box (5 speed or auto) becomes the chips program.)
Vendor
Model
Application
Injector Size
(lbs/hr)
VAM
(cfm)
Rapido
SVO +
5 spd XR
36
360
Superchip
XR
5 spd XR
36
280
Superchip
XR "custom"
5 spd XR
36 or 42
360
Superchip
SVO
SVO 85.5 - 86
36
360
Notes:
Rapido SVO+ This is an ECA not a chip (it is a REAL 86 SVO ECA !). A TON of midrange timing at @3500rpm (timing and boost all come barreling in at once. Too much timing and an effective CR of 13-14:1. Too much for pump gas. MUST be intercooled and Rapidos own IC wouldn't be enough. Comes on strong and then can't deliver. The car will be faster at 9/10s throttle than at 10/10s. The WOT map is poor
I have pulled the code from the superchips and found that it is not exactly the SVO 86 (PE)code. The VAM table is slightly different and they have added a "blanket" 5 degrees timing on all three timing tables.
As for chip interchangeability the 5 speed XR (PF2 and PF3) with the PE VAM table can swap no problem.
The automatic XR and T-Bird (PC1 and PK1) with PE VAM table can swap.
There are a lot a calibration differences between the 5 spd XR and the auto XR ECA's so you should not swap in that manner.
SUPERCHIPS: Less mid range timing than the SVO ( & Rapido SVO+) but a much smoother WOT map. If you went from the SVO+ first and then to the superchip you would feel both. No knock sensor at midrange and better WOT "feel". Better overall. Chips can be custom reburned. I've done a couple, a variation of the PE chip. Chips (350hp) can be reburned to run bigger injectors. Note on that, many people report no problem with bigger injs and the chip, some do. I'm a believer in those that do don't need them. Unless you have a bigger turbo that can pump good air and a GOOD IC that can cool the air you can't produce enough good air to need the fuel.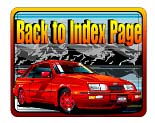 ---