Component: Custom Air-Water Intercooler system (11/98)
---
Since I enjoy tinkering and experimenting, I decided to try and put together a custom air/water intercooler system. I knew this wasn't the easiest approach, but it seemed like it would be the most fun. I did some research and started designing the system. I ended up using a standard Spearco air/water IC core because of it's small size and reasonable price (part & price list to follow). I had them weld up a 2-252 core with the charge air manifolds both pointing in the same direction. Before I ordered the 2-252, I made a cardboard mock up to make sure that it would fit under the hood. Didn't want to have a custom 2-252 made and later find out that it wouldn't fit. Turns out that it fit nicely (although tight) without having to move any of my existing components. I did need to rotate the turbo compressor housing outward (toward fender) and drill & tap new mounting holes for the waste gage actuator. I used Spearco's 90deg elbow that bolts directly to the stock 2 bolt flange compressor housing.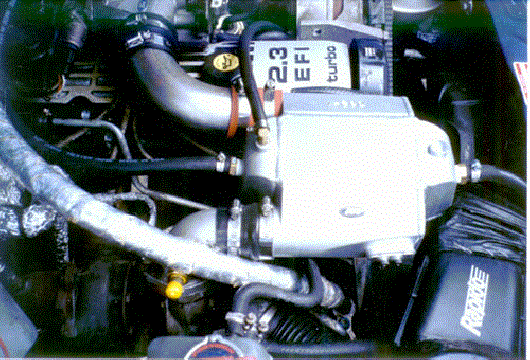 Spearco 2-252 Air/Water IC Core
Besides the 2-252 IC core, I needed to select some heat exchangers that would cool the "hot" water coming from the IC core. I decided that I would mount the coolers up front in the lower bumper cover openings where they would get plenty of fresh air. I checked into some low cost heater cores (~ $15 each), but decided against them because they appeared to be of an inefficient design. In addition, they seemed too fragile to be able to handle road debris and rocks that may be kicked up near the ground. I ended up going with high efficiency engine oil coolers that had a sturdy aluminum honeycomb design that could handle some occasionalroad debris. Two of these coolers fit almost perfectly in the lower bumper cover openings (see photo below). I needed to trim the bumper cover a little, but they ended up fitting real nice. To help ram more air through the coolers, I got some industrial belting material and made an air dam along the bottom of the bumper cover.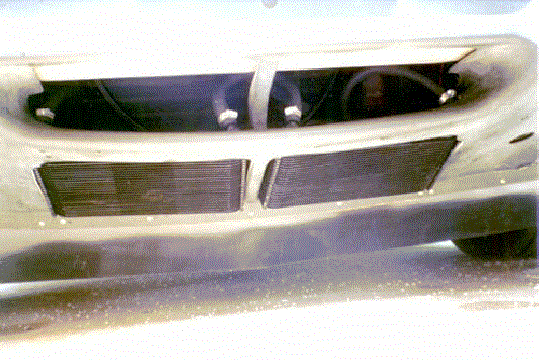 Front heat exchangers and extra air dam
To circulate the cooling water, I chose a Jabsco marine bilge pump (Water Puppy model). This pump is rated at 6GPM and seemed to be very well built. It is a centrifugal type pump with bronze housing and a heavy duty rubber impeller. I mounted this pump directly underneath the stock air box in the fender well. It was necessary to wire a relay to provide power to the IC pump when the ignition was on. One downside of this type of pump is the noise. It hums noticeably most of the time, except at higher speeds when wind noise drowns the hum out. A high output diaphragm type pump should also work well and would make less noise. Personally, I've gotten used to the hum of the centrifugal pump and it doesn't bother me.
For filling, water expansion, and additional water capacity, I added an IC coolant reservoir. I searched the junkyard and ended up getting a small tank off of a late 80's style Pontiac LeMans. Unless most tanks which were simply for radiator overflow, this tank was designed to handle pressure and had a pressure cap that came with it. I ended up mounting this upbehind the driver's side headlight. The pump, 2-252 IC core, as well as engine oil coolers came with 1/2" NPT threads. I got some 1/2" hose barb fittings and screwed them into the IC core, pump head, and coolers. I then connected it all together using 1/2" hose. Later, to help the pump out, I re-routed some hoses and replaced the 1/2" suction hose with a 5/8" line that ran from the expansion tank to the pump inlet. It is a proven fact that pumps work best with the least amount of restriction on the suction side. It is better to relocate necessary restrictions (heat exchangers, IC core, etc...) to the pressure side, as this will not adversely affect overall flow as much.
I did some temperature testing using a digital voltmeter with a thin wire thermocouple. First, I installed the wire thermocouple between the silicone coupler and turbo outlet. This reading (BEFORE IC) gave the temperature of the heated, compressed air coming out of the turbocharger. I took about 10 readings at highway speeds with the voltmeter set to capture the maximum temperature. It was a typically warm day in Florida with ambient temperature hovering around 85F. After these readings, I placed the thermocouple between the silicone coupler and IC outlet (AFTER IC) to get the intercooled charge air temp. In both cases, I was careful to make sure that the wire thermocouple was bent so that it was in the air stream and not touching the sides of the air passage. I took 10 readings this way also - below is the data that I gathered.
TEMPERATURE (F) READINGS BEFORE & AFTER IC
BEFORE IC

AFTER IC

311

167

296

169

300

161

319

168

322

162

302

157

305

154

310

159

305

158

297

157

AVERAGE TEMPS (F)

307

161

TEMPERATURE DROP THROUGH INTERCOOLER = 146 F
With this temperature drop and given the ambient temperature, IC system efficiency is around 67%. Dropping charge air temperature nearly 150 F is a definite improvement over NO intercooler - though there is room for improvement. I would like to get efficiency in the 80% range, and I am currently working on adding an additional heat exchanger up front. This should boost the overall system efficiency by further cooling the IC water nearer to outside ambient temperature. In addition, I also plan to add some Redline Water Wetter heat transfer agent in the hopes that this will help efficiency a bit. This has been a fun project, and I am glad that I chose to go this route. Below is a list of the parts I used in my Air/Water IC system, their source, and price.
AIR/WATER IC SYSTEM PARTS/PRICE LIST
| | | |
| --- | --- | --- |
| COMPONENT | SOURCE | PRICE |
| SPEARCO 2-252 IC CORE SPEARCO $385 | | |
| SPEARCO 2-1230 ELBOW SPEARCO $46 | | |
| SILICONE COUPLERS (QTY 3) SPEARCO $36 | | |
| JABSCO 6360-1001 BILGE PUMP (SEE ADDENDUM BELOW) E&B MARINE $89 | | |
| MISC FITTINGS HARDWARE STORE APPROX $10 | | |
| EXPANSION TANK JUNKYARD $5 | | |
| 1/2" & 5/8" HOSE AUTO PARTS STORE APPROX $20 | | |
| ENGINE OIL COOLERS (QTY 2) P/N38NF1482N JC WHITNEY $92 | | |
| AIR DAM INDUSTRIAL BELT COMPANY APPROX $10 | | |
PUMP RECOMMENDATION ADDENDUM - (3/12/99)
After some bad experiences with the Jabsco 6360-1001 Bilge Pump (Water Puppy), I now recommend a different type of pump. On two occasions, the Water Puppy threw an impeller blade which got lodged in the pump output. I realized something was wrong when the pump became very noisy and the output was reduced. In my experience, the continual rubbing of the flexible impeller in the pump housing is not a good choice for a daily driven car. One advantage of the Water Puppy is that it is a positive displacement/self priming pump and has a good ability to draw water into the pump head. The self priming feature makes the mounting location less critical for this pump. In my opinion, the Water Puppy would be a good choice for a race car that was not driven daily. This pump has a decent flow rate of around 7GPM at open flow.
Thanks to Depco Pump Company ( 1-800-445-1656 or http://www.depco-pump.com ), I was able to get a different pump from Jabsco at no cost, even though I didn't originally purchase the pump through Depco and it was past the 1 year warranty period. I highly recommend Depco as a source for any kind of pump. They offer a large selection, are very knowledgeable, and have excellent service. Depco recommended the Jabsco Centri-Puppy for my air/water IC system. This pump is a centrifugal type with a bronze impeller. It is a slightly bigger & heavier pump, but it has a lower current draw and a much higher flow rate. Open flow on this new pump is around 20 GPM (however this is significantly reduced with back pressure). A nice advantage of this pump is it's quietness. The Water Puppy continually buzzed and was very loud. The Centri-Puppy is so quiet that it is not even noticeable with the engine running. Even with the engine off, the gentle hum of the pump motor is very quiet. This pump is NOT a self priming type, so it is very important to mount it so that water is drawn into the suction side by gravity. In my case, I mounted it down below the IC reservoir - underneath and behind the driver's side headlight. I received the Centri-Puppy pump with lip seal (Jabsco # 18510-0000). This pump normally costs around $120 (no cost to me). There is an extended life model with a face seal (Jabsco # 18510-0020) that costs around $190. So far, I have been very pleased with this new pump.
---